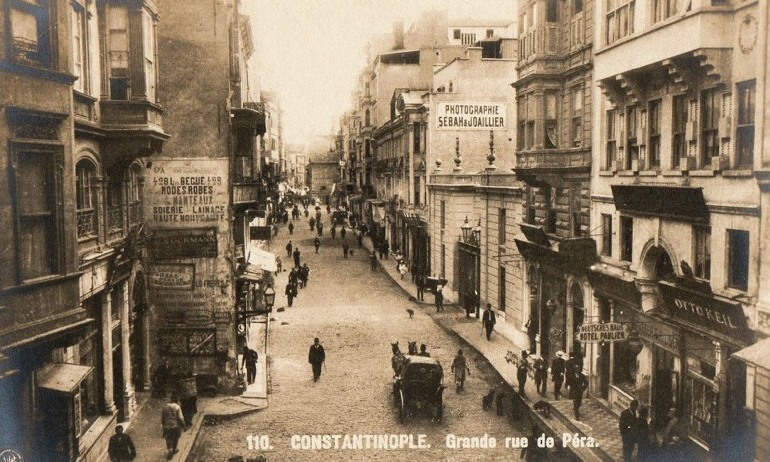 "...Больше всех ухо улавливало французский язык. Говорили на нем беженцы так, что даже издали слышался густой запах нафталина, как от шубы, которая долго лежала в сундуке без употребления и которую наконец-таки извлекли на свет Божий и стали перетряхивать.

Около ресторана Сарматова я слышал такой диалог.

Господин сделал испуганное лицо и, подбирая французские слова с таким страхом, с каким неопытная барышня впервые заряжает револьвер, спросил прохожего:

– Комм же пуве алле дан л'амбассад рюсс?

Спрошенный ответил:

– Тут-де сюит. Вуз алле ту а гош, а гош, апре анкор гош, е еси будут... гм... черт его знает, забыл, как по-ихнему, железные ворота?

– Же компран, – кивнул головой первый. – Я понимаю, что такое железные ворота. Ла порт де фер.

– Ну, вот и бьен. Идите все а гош – прямо и наткнетесь."

Translation:

The French was heard more than any other language. Spoken by the Russian refugees, it smelled of mothballs, like an old fur coat dragged out from the trunk after a lengthy storage. This is what I overheard outside Sarmatov's restaurant, where a gentleman with a frightened look was picking his words with extreme deliberation, like a young lady loading a gun for the first time: "Comme je pouvez aller dans l'ambassade russe?"
His interlocutor replied: "Tout de suite. Vous allez tout à gauche, après encore gauche, et ici there will be... hmm... damn, I forgot – how do they say 'iron gate'?
The first one nodded: "Je comprends. I know what an iron gate is. La porte de fer."
"Well then, bien. Keep going gauche, and you'll get right there."


****
"Обладательница прекрасных глаз, известная петербургская драматическая актриса, стояла передо мной, и на ее живом лукавом лице в одну минуту сменялось десять выражений.

– Слушайте, Простодушный! очень хочется вас видеть. Ведь вы – мой старый милый Петербург. Приходите чайку попить.

– А где вы живете?

Во всяком другом городе этот простой вопрос вызвал бы такой же простой ответ: улица такая-то, дом номер такой-то.

Но не таков городишко – Константинополь!

На лице актрисы появилось выражение небывалой для нее растерянности:

– Где я живу?.. Позвольте... Не то Шашлы-Башлы, не то Биюк-Темрюк. А может быть, и Казанлы-Базанлы. Впрочем, лучше дайте мне карандашик и бумажку – я вам нарисую.

Отчасти делается понятной густая толпа, толкущаяся на Пере: это все русские стоят друг против друга и по полчаса объясняют свои адреса: не то Шашлы-Башлы, не то Бабаджан-Османлы.

Выручает обыкновенно карандаш и бумажка, причем отправной пункт – Токатлиан: это та печка, от которой всегда танцует ошалевший русский беженец.

Рисуют две параллельные линии – Пера. Потом квадратик – Токатлиан. Потом...

– Вот вам, – говорила актриса, чертя карандашом по бумаге, – эта штучка – Токатлиан. От этой штучки вы идете налево, сворачиваете на эту штучку, потом огибаете эту штучку – и тут второй дом – где я живу. Номер 22. Третий этаж, квартира барона К.

Я благоговейно спрятал в бумажник этот странный документ и откланялся."

Translation:

The owner of the beautiful eyes, a well-known actress from Saint Petersburg, was standing in front of me. Her lively and lovely face was quickly changing expressions.
"Listen, Innocent – why don't you visit my place? You are my dear old Saint Petersburg. Come and have tea with me."
"Where do you live?"
In any other town this question would have had a simple answer: such-and-such street, building number so-an-so. But Constantinople is not your any other town.
There is confusion on the actress's face:
"Where do I live? Hold on... Some Shashli Bashli, or Büyük Temrük. Or maybe, Kazanlu Bazanlu. Why don't you give me a piece of paper and a pencil, and I'll draw it."
Now you can see why all these Russians are loitering and crowding around Pera. They are just trying to explain their addresses to each other, for half an hour at a time: some Shashli Bashli, or rather Babarcan Osmanlu...
This is where a piece of paper comes in handy. The inevitable starting point is the Tokatlıyan [hotel]: it is the ground zero where a Russian begins the journey. You draw two parallel lines – Rue de Péra – and then a little square – the Tokatlıyan Hotel. Then...
"So here you go," continues the actress, sketching with her pencil on the piece of paper. "This thingy here is the Tokatlıyan. From this thingy you go left, turn to this thingy, then walk around this thingy, and the second building you see is my house. The number is 22. Third floor; the apartment of Count K."
I folded the piece of paper with reverence, placed it in my wallet, and bid my adieu."

*****
Arkady Averchenko, Innocent' Tales, or, I am in Europe (1923).



Image from the Russian language guide to Constantinople, collected by Ekaterina Aygün, Metromod.